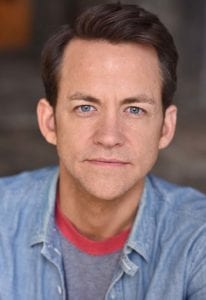 Ryan King is an award winning actor, screenwriter, improviser and stand-up comedian. He graduated from The Second City Chicago's Improvisation & Comedic Acting program and has since studied sketch comedy with Kevin McDonald of the Kid's in the Hall, screenwriting with Michael C. McCarthy of Saturday Night Live, and advanced scene study under Caroline Locorriere of the Nashville Acting Studio.
His acting work can be seen in Dynasty (Nicollette Sheridan, Elizabeth Gillies), The Resident (Matt Czuchry, Emily VanCamp), Sun Records (Trevor Donovan, Billy Gardell), Son of the South (Stan Houston), Your Worst Nightmare, Trigger (Best Film – Nashville Film Festival) and Ouija Bored (Best Film – Buried Alive Film Festival). He has starred in commercials for Nickelodeon, Krystal, Smile  Direct, Farm Bureau, Pure Insurance, Tractor Supply Company, CMT, Brett Eldredge, the Tennessee Lottery, and more.
He won the 2017 Best Improviser Award as a Main Stage cast member for Third Coast Comedy Club where he was coached by Grant Collins (Improv Olympic, Chicago) and Erica Elam (Second City, Chicago). He has received further improv training from Justin and Kelly Buttermore (The Pit, NY), Dylan Rhode (UCB, LA), Andrew McMasters (Jet City Improv, Seattle), Joel Dale (Improsia, France), Ian Covell (Highwire Comedy Co., Atlanta), Paul Simmons (Einstein Simplified, Knoxville) and Michael Gellman (Second City, Chicago). In addition to the Third Coast Comedy Club Main Stage he has performed with LOL Nashville, Life in Mono, Incident 2, Franklin Improv Allstars, Pudding Parade, Geek Media Expo Main Stage Cast, Court Improv, Nashville Improv Company, and Crash.
As a stand-up comedian he has been a featured performer for Kevin McDonald, Dusty Slay, DJ Pryor, Chris Killian and Scott Phillips. In 2015 he joined the Nashville stand-up community in an eighty hour performance that broke the Guinness World Record for the Longest Stand-up Comedy Show. He is a five-time winner of the Nashville's Funniest Comic Award.
His has provided voice work for The Rhoads Group, the University of North Georgia, the Tennessee Lottery, Tennessee Wesleyan University, and Geek at Night.
His screenwriting can be seen in productions for RTS Consulting, Savant Learning, Summer Play Days and Love Is.
He is married to singer/songwriter, Carrie King and currently lives in Atlanta, Georgia where he works as an actor, voice-over artist, screenwriter and as an improv instructor for Drama Inc.